Dear friends in Israel: On behalf of the Czech orienteering  team I would like to say: THANK YOU!!!
for the Israel Open Championship 2013. We enjoyed it very much! We appreciated the excellent organization, the challenging terrain, the wonderful weather and the perfect  maps, your kind words during prize giving ceremony – everything was really pleasure for us!
We also enjoyed the "tourist part" of our program – we have been to Hammad Gader, Tiberias,  Dead Sea, Jerusalem. The special atmosphere in Jerusalem on Monday was really unique – the Purim holiday festival. We saw many happy people there in Jerusalem streets. Another experience for us.
Best regards.
Brko
March 2013
from Robert (Brko) Zdrahal Hana Orienteering Company, Czech Republic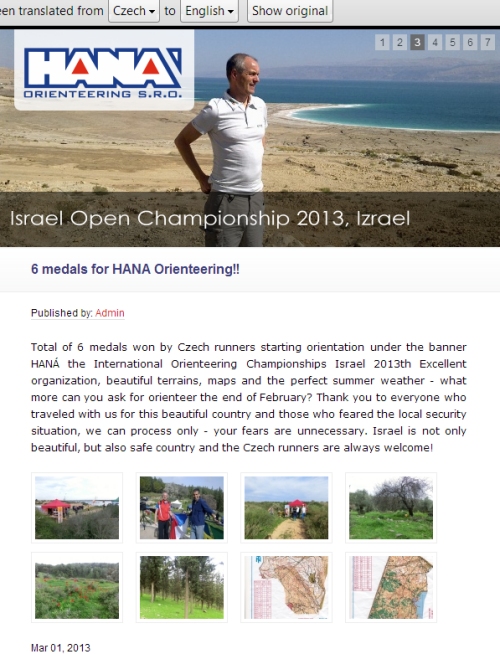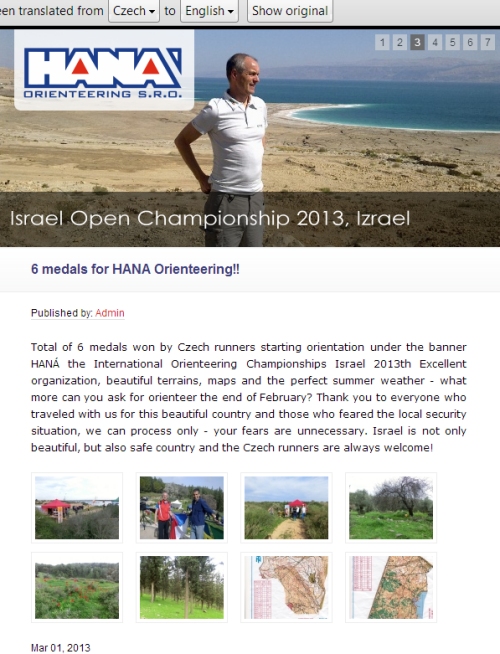 http://www.hanaorienteering.cz/2013/6-medaili-pro-hana-orienteering/
♦—♦—♦—♦—♦—♦—♦—♦—♦—♦—♦—♦—♦—♦—♦—♦—♦—♦—♦—♦—♦—♦
My remarks from Israel journey 2011 – Israel – Orienteering country!
I have been to Israel many times – in the last four years I have visited this beautiful country with groups of my orienteering friends. Orienteering is the main purpose of our visit, but we also travel all over the country, we admire a scenery, ancient places and Israel's people as well. I can say that Israel's orienteering has grown up. Every year we can see some progress. The maps are better and better, also organizing is more professional than before. And what about 2011 Desert Championship and Israel Orienteering Championship?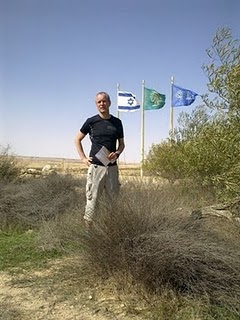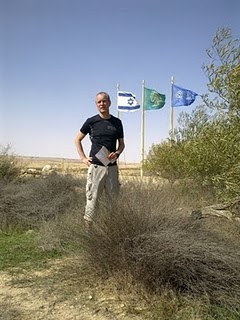 The first day of Desert Champs was held at a beautiful place – near the lake in Park Golda. Also competition was well organized, courses and map was on good level. Maybe one part of the map (the flat parts on the other side of the road) could be better, some controls were difficult to find according tp map. But generally – a nice competition.
The second day – surprising Shifta National Park – it was something unique! Perfect map, challenging terrain and interesting courses – this competition had a real international standard! Maybe the organizer should add a little more desert to this area and that is why one competition would be enough for second day.
But we also did a third competition in Nitzana – in the afternoon. Together with the labyrinth and special sprint it was an interesting competition again. Beautiful finish area, swimming pool and comfortable accommodation – this is main advantage of Nitzana village. Finally, I could see only one disadvantage of Desert Champs. It was the "old fashion style" of punching. It is clear that electronic punching is absolutely necessary for each competition – no mention, that Israel Desert Champs hosted more than 200 competitors. In such conditions it is very difficult to calculate results and almost impossible to check all paper cards. I am ready to help Israel´s organizers find the right way to bring electronic system to their country .
The Israel Orienteering Championship was held close to Jerusalem in Beith Jamal (Friday) and Serigim (Saturday). Both competitions were excellent – friendly atmosphere, good and new (Saturday) maps, created with Czech map makers help :-), challenging terrain, difficult courses and fast results. I could hardly find any mistakes there. Maybe – again- the manual punching for some classes (children, beginners). These classes also need results and it burdens organizers a lot. The terrain was different from European style – very tricky and competitors had to concentrate on the maps very much. Maybe, in order to explore all details on the map, in such terrains organizer should use different scales for veterans and children (for example 1:7500 ).
I have spent beautiful time in Israel again. I love the atmosphere at competitions – this is something that disappeared from Czech competition a few years ago. All Czech orienteers are always in a hurry nowadays. Many people will come to competition just on time (they already know start time from competition's web page) only few people waiting for prize giving ceremony…. Another reason, why I like Israel´s competition so much!
I can promise, that next year, I will come again. I am looking forward to meet some of you in Czech Republic during Easter time and at Silva O-camp as well!
April 2011
by Robert (Brko) Zdrahal Hana Orienteering Company, Czech Republic