We will be back! On February 18, 2011, 11 winter and snow tired orienteers met at Arlanda Airport to fly to Tel Aviv. We landed late in the Holy Land and drove to the desert in the southern part of Israel. After the long travel, and little sleep and water, four of the eleven went to run the first part of the Desert Championships. It was a challenging sprint in the ruins of an ancient city at nine in the morning. The rest of our first day in the desert went by trying to find water, the second part of the Desert Championship, and a nice training in a really quiet sandstorm.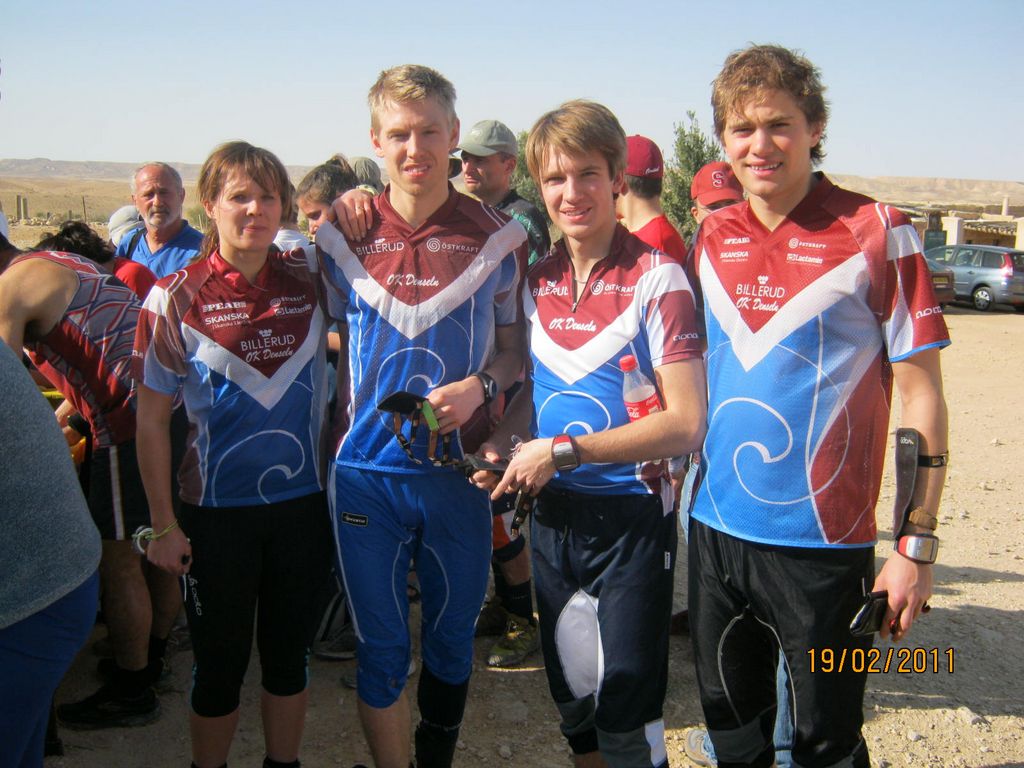 After two nights in the desert it was time to move north to the Kibbutz of Tuval. Two training sessions were done on our way to the north, and it got dark, so finding Tuval was harder than expected, but with the aid of some locals we found the kibbutz.
The northern part of Israel really has some nice and demanding terrain, and the days went by with up to four training sessions a day, a great amount of controls, and some nice downtime with the Finnish guys and the Segals. We also took time off for quick dips in both the Sea of Galilee and the Mediterranean Sea, and some time as tourists in both Nazareth and Acre.
After a couple of nice hard training days in Tuval, it was time to move to Zora and the Israeli Championships. Two days of competition were held in physically and technically demanding terrain. The Israeli future star Eran Segal took the victory ahead of Olle and Anders. Matilda Andersson won the women's main class and Therese Nyström took home another women's class.
After the first competition we went to be tourists in Jerusalem. We had expected more of Jerusalem, but it was way too touristy and crowded so we never got enjoy the special spirit in Jerusalem. After the second day in Zora we went to see the Dead Sea. Driving from 1100 meters above sea level to -400 meter through a beautiful desert, and the "swim" in Dead Sea was an experience that exceeded our expectations.
Our last day in Israel was a nice "köttar-dag" ("Give it your all day in Swedish) with four training sessions and 5 hours of running for the three biggest idiots on the trip, and a little less for the rest of the group.
We can really recommend Israel as a good orienteering country. We ran more than 20 sessions on unique maps where most of them were challenging and varied terrains. We will be back some day!
Anders Kleist and Emil Folino, OK Denseln