Israel Open Championships 2014. Overall organisation is pretty slick. Israeli events have a friendly atmosphere and it definitely feels a small family sport.
Having been to the usual suspects, such as Spain, Portugal, Italy, even Turkey, where can you go over winter which isn't Long Haul or the Southern Hemisphere, and yet still have a good chance of warm sun and interesting? Israel is surely the answer. While Europe has been suffering, the Israeli economy along with the New Israeli Shekel, has been trotting along nicely. The country is more stable that it has been for many years. Orienteers around Europe have been visiting. Former World Champ Pasi lkonen FIN together with a group of Elite Orienteers were there for a training camp over winter.
With the GBP being weak, some things are even a bit 'pricey' by UK standards. Luckily, the sunshine is free and direct flights from London can be made with BA, El AI and EasyJet. No prizes for guessing which is cheapest!? And in Feb/March when the Israeli Open Champs normally is, there are normally some good bargains to be had. The direct flight from London to Tel Aviv is just under 5 hours and you don't need a Visa with an EU passport. Next year, Israel will host the Mediterranean Championships in Orienteering (MCO) 19-21 Feb 2015.
If you need a good event/reason to go to Israel, this is it. Two WREs too if you are running 21A. Plus the chance to run on one of the most amusingly named maps, 'Shimshit', which is being used for the Model Event.
Check out http://israelorienteering.org/2015-mco/program/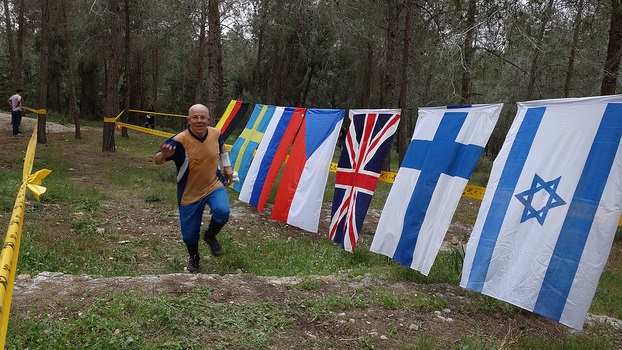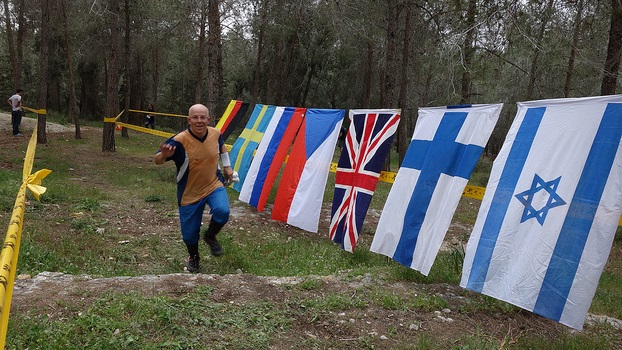 So what of this year's Israeli Open Champs? 450 competitors, only 30 or so from overseas. Many of these picked up medals. The largest group was from Czech Republic an O tour group from Hana Orienteering. Hebrew names on the start lists and results for all the locals, so you never knew the names of your competitors! The Israeli weekend is Friday + Saturday, so the Long was Friday, in baking sun when out in the forest. 30 degrees. Cloud cover made Saturday's Middle a bit cooler. The Middle map was 1 :7500 but we have shown it here at 1:10,000. A few new paths from bikes (motorised and non) were on the ground but not on the map, some quite major, which confused, on the Middle day. Indeed there were a few interesting quirks and minor deviations from standard IOF/European rules. Nothing that was really going to annoy or catch you out, but a British controller would have been tutting … The last control Day 2 for example was on a monument. But the control was placed 10m away where there was more space. Control 20 on the course shown had a description of 'pit'. Yet no pit symbol on the map. Indeed it would be more cluttered with the bush and the crag there already so is it necessary? The rules would say yes but actually it made no great odds to finding the control.
Israel has recently switched from EMIT to SI. Overall organisation is pretty slick. Israeli events have a friendly atmosphere and it definitely feels a small family sport. The Israeli Open is the biggest annual event in the calendar. In fact, it is held almost at the end of their season. There are no O events in summer due to the heat. Israeli O is very topsy-turvy. The rain comes in the winter, so undergrowth is thickest at the end of the winter – and indeed it was in places, especially in the Long race. Over the hot summer it dies off/back. So March is quite a 'green' month. Israel also hold a Winter Cup in December, which is perhaps when the forests are at their best in terms of undergrowth. However, many areas are quite dry and fast, and the undergrowth is not really an issue at anytime of the year.
On your splits print out it said "ISRAEL – Land of O and Honey". And indeed it was as the prizes were jars of honey.
Again, slightly uniquely, the times of the Long and the Middle distance races were added together for your overall score and position.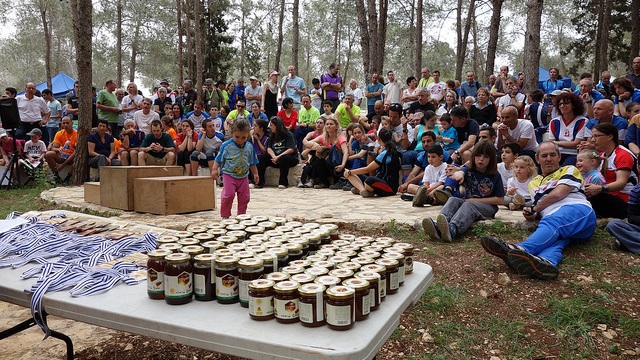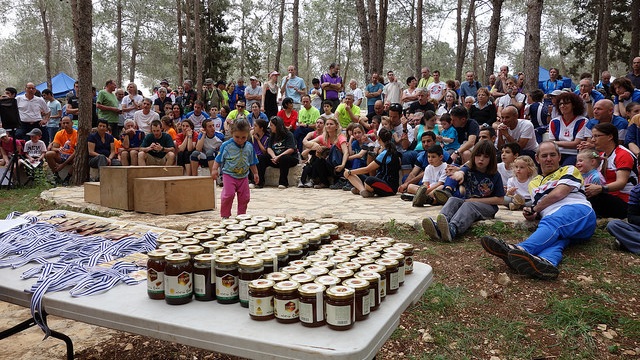 When you have finished O'ing, you have a wealth of things to do. As the country is fairly small, and steeped in History, you are never far from something Historical.
On a short weekend visit for this event, we had a good look around old Jerusalem and another around the town of Caesarea. Caesaria was built by Herod the Great about 25- 13 BCE as the port city Caesarea Maritima. It served as an administrative centre of Judaea
Province of the Roman Empire, and later the capital of the Byzantine Palaestina Prima province during the classic period. I could go on, for quite a while … ! lt is now a National Park and has a good selection of cafes and restaurants!
Check out http://israelorienteering.org/ for more
Nick Barrable
Compass Sport, April 2014
http://www.compasssport.co.uk/