Rogaine Autumn 2012 Nofit – Results – Excel file
When?
Friday – November 30, 2012 – 06:30 to 12:00


What is a Rogaining?
ROGAINE stands for Rugged Outdoor Group Adventure Involving Navigation and Endurance.
Rogaining is the sport of long distance cross-country navigation, in which teams of two to five people visit as many checkpoints ("controls") as they wish within a set time period. The checkpoints are marked on a map that competitors receive shortly before the start. Checkpoints have different point values, and can be visited in any order, so strategy and route selection are key elements to achieving the highest point score. Teamwork, endurance, competition and an appreciation for the natural environment are features of the sport.
The traditional rogaine is 24 hours in duration, but shorter events are common.
Rogaine Israel Autumn 2012 offers a 4-hour event for competitors on foot, and a 3-hour event for bike riders.
Learn more about rogaining.
Who Can Participate?
Rogaining is a team activity for people of all ages and levels of fitness. Rogaining appeals to all types of outdoor sports enthusiasts – from recreational hikers and bikers, to elite level orienteers, runners, mountain-bikers, and ultra-athletes.
Your challenge and success come from your ability to read the map, to plan a route through as many checkpoints as possible, and to navigate your course within the time limit.
New rogainers are always welcome and organizers are more than happy to help you get started.


Options for Newcomers – Set Courses
Alongside the traditional rogaining competition, the organizers of Israel Rogaine Autumn 2012 are offering prescribed courses for runners and mountain bikers, at short and long distances:
Runners: 15 km and 25 km (approximate)
Bikers: 20 km and 30 km (approximate)
The courses and checkpoints will be marked on a map, which competitors will receive prior to the start. The courses will take competitors on trails through varying vegetation and terrain with stunning views of the area surrounding Nahal Zippori. The courses will not be marked by signage, but navigating will not be difficult.
Rogaine Categories for Foot and Bike
Open – No age limits.
Open Women – No age limits, with at least one female member of the team.
Mixed Age – At least one member of the team must be under age 16 or at least 50 years old.
Mixed Age Women – At least one female member of the team under age 16 or at least 50 years old.
Age is determined by the competitor's age on January 1, 2012.
Any team with a member under the age of 16 must also have a member at least 18 years old.
Set Course Categories for Foot and Bike

Open – No age limits.
Open Women – No age limits, with at least one female member of the team.
Start Time
Mass start for all competitors at the following times:
| | | | | |
| --- | --- | --- | --- | --- |
| | | Map Handout | Start | Time Limit |
| Rogaine Foot | 4 hours | 07:00 | 07:30 | 11:30 |
| Rogaine Bike | 3 hours | 08:00 | 08:30 | 11:30 |
| Set Course Foot | Short/Long | 08:00 | 08:30 | |
| Set Course Bike | Short/Long | 08:00 | 08:30 | |
Registration desk will open at 06:30
Finish Time
All Rogaine competitors must arrive at finish line by 11:30.
Rogaine competitors will have penalty points deducted from scores due to late arrival at finish. Arrival after 12:00 will result in disqualification.
Award Ceremony:  11:45


Event Organizer: Israel Sport Orienteering Association
Event Center
The event center is at Nofit, a small community in northern Israel, Nofit is located on the western edge of the Lower Galilee, on a hill that rises to some 150 meters above sea level, and has a marvelous view of the Nahal Zippori riverbed, the Galilee and the Acre Valley.
Start and finish will be at the Nofshit, the town's swimming and sports facility. Personal gear can be left at the event center, and participants may pass through the assembly area at any time during the event.
The registration fee for the event includes admission to the indoor pool, showers and dressing rooms at Nofshit from 06:30 through 14:00 on the day of the event.
Gear Provided by Organizers
Every competitor will receive a map prepared especially for the event; it has a scale of 1:30,000.
Every team will need one Emit electronic timing card, as used by competitors at Israel Sport Orienteering Association events. The organizers will loan an Emit card to any team in need of one.
Water points will be marked on the map.
Required Gear
Every team must carry a mobile phone whose phone number has been registered with the event organizers.
Every competitor must be carrying at least 1 liter of water at the start of the event.
Recommended Gear
Compass, food, long pants, extra pair of socks, first-aid kit, small pack for carrying gear.
Forbidden Equipment
The use of maps other than those expressly sanctioned by the organizers is prohibited.
The only navigational aids that may be carried on the course are magnetic compasses, watches and copies of the competition map.
Use of navigational aids, including pedometers, altimeters, and GPS devices with map-display capabilities, is prohibited during the event.
Computers may not be used by competitors for planning their strategy.


Checkpoints
Approximately 30 checkpoints will be spread across the rogaine area. Checkpoints are marked by orange and white flags (orienteering control markers). Every checkpoint has an electronic timing device with a unique code.
Scoring
Each team's score is determined by the total value of the checkpoints visited.
Points are deducted for being overtime, according to a rate per minute or part thereof.
Teams finishing more than thirty minutes late will be considered overtime, and therefore disqualified.
Rules
The rules for the event are based on the international rogaining rules. In case of discrepancies between those rules and those defined by the organizers of Israel Rogaine Autumn 2012, the rules for this event will be the operative ones.
Event Site – Map Area
The rogaine map covers an area of about 50 square kilometers.
In general the event site boundaries are highway routes 70, 79, 77 and 75.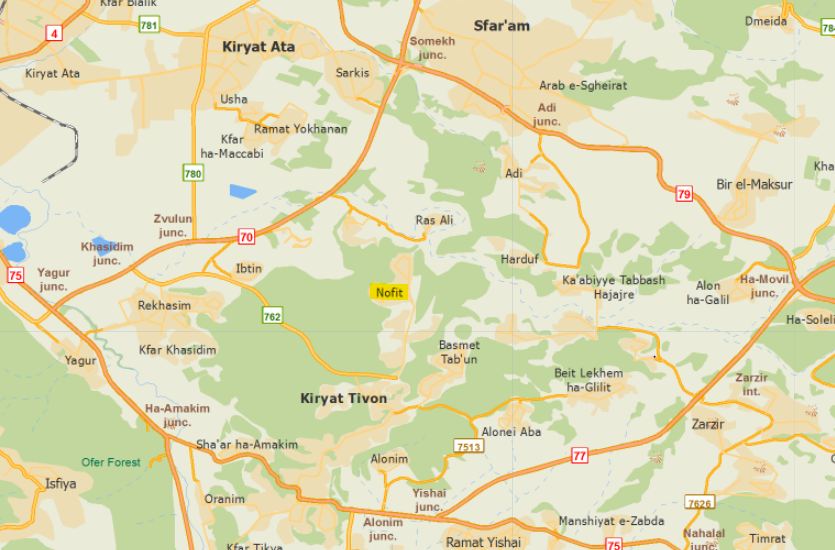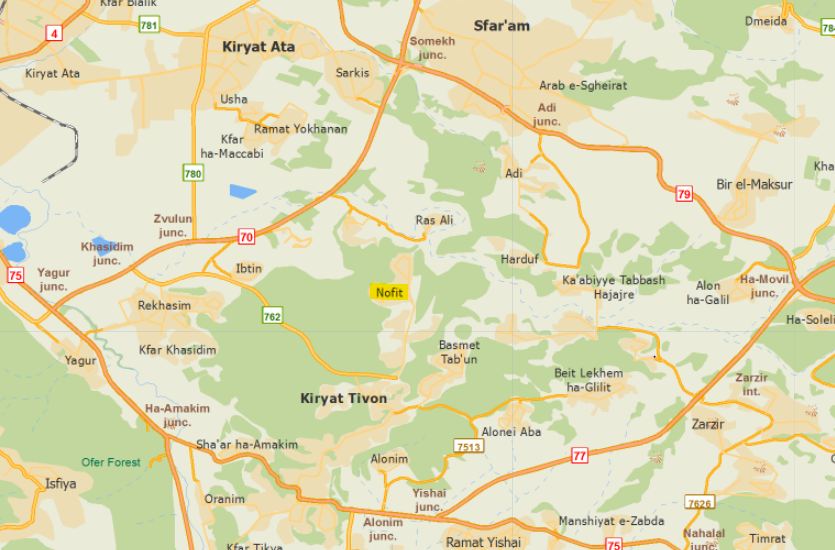 Directions
Directional signs will be posted at the entrance to Nofit from Route 762.
Please drive carefully within the town, and comply with parking attendants' instructions.
Need a Teammate?
If you would like to participate but don't have a partner, use the Find-A-Teammate form on the rogaine (Hebrew) website, or send an email to Rogaine Teammate. Specify your level of fitness, the category you want to compete in, your ambition (e.g., just for fun, aiming for the podium), and your name and contact details of course.
Rogaine Training
On Saturday, November 3, 2012, a super-score orienteering event in Yatir Forest offers an opportunity to prepare for the rogaine.
Entry Fees and Registration
Online registration on the Israel Sport Orienteering Association website.
Early registration ends October 31, 2012 November 7, 2012 – 60 NIS per person
Registration on or after November 1, 2012 November 8, 2012 – 90 NIS per person.
ISOA members receive a 32% discount.
A sole ISOA member on a team with 3 or more non-members will be exempt from entry fee.
Optional event shirt (moisture-wicking fabric): Add 30 NIS to entry fee.
Registration ends November 24, 2012 at 23:59.
Competitors from outside Israel may register by email to: Rogaine Israel Autumn 2012