Lower Galilee
Some 50 orienteers came from 13 countries  to compete at the 2019 Israel Open Championship. We hope you enjoyed the orienteering competitions and your visit in Israel.
---
---
PHOTOS & VIDEOS
Day 1 Photos – Kfar Hahoresh – Gidi Zorea
Day 1 Video Clips – Kfar Hahoresh – Gidi Zorea
Day 2 Photos – Solelim – Gidi Zorea
Day 2 Video Clips – Solelim – Gidi Zorea
RESULTS
Israel_Open_2019_Results_2day-Total (PDF file)
Total Results (webpage)
Results Day 1
LapCombat Day 1 – Splits Analysis
Results Day 2
LapCombat Day 2  – Splits Analysis
---
START TIMES – for Day 1 and Day 2
Venues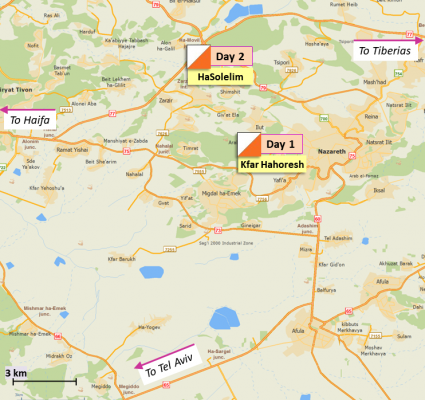 Day 1 – Kfar Hahoresh – 22 Feb 2019
WAZE Driving Instructions  (from mobile phone)

From Route 75, right turn to event arena from east only.
If coming from west, do not attempt to turn left. Continue to Kfar HaHoresh intersection and make a U-turn. Scroll down for more detailed arena map.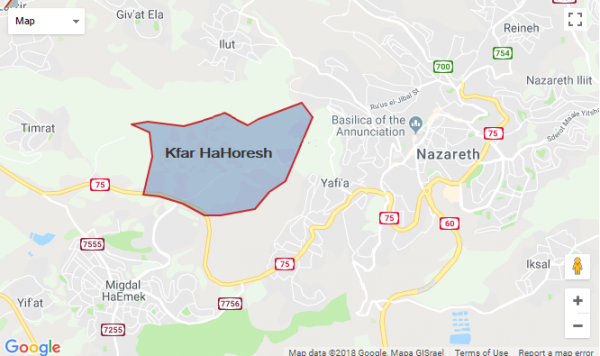 Day 2 – HaSolelim – 23 Feb 2019
WAZE Driving Instructions  (from mobile phone)
From the entrance gate at Solelim, continue straight until you are directed to the parking lot.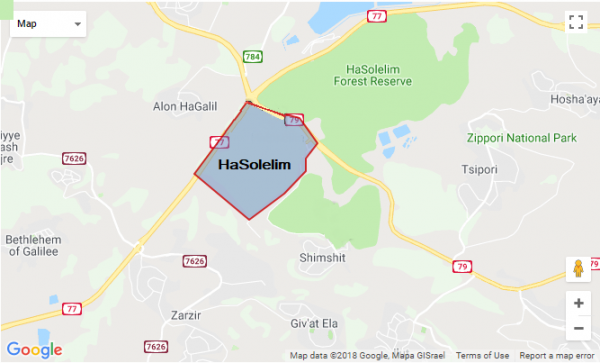 Registration
All competitors from abroad must register by submitting the
Registration form.
Registration deadline: 18 February 2019.
Registered Competitors – Day 1
Registered Competitors – Day 2
…………………………………………………………
DAY 1 – Kfar Hahoresh
Course Planner – Dan Chissick
Course Supervisor – Ronen Shurer
Event Director – Pavel Yoffe, Galilee O-Club
The first day of the Israel Championship will take place in the forest around Kibbutz Kfar Hahoresh, an area first mapped in 2007 by Uzi Schweitzer, but used only for training in the past five years. The new map was prepared recently by Ziv Noiman.
The arena for Day 1 is in a patch of forest next to a small military base.
Topographically, the map includes one ridge with two peaks, and has an altitude difference of over 200 meters. The southern and western slopes are very steep, mostly covered in a pine forest, with a wide network of trails (both car and bicycle) and clusters of rocky details. The northern slope is slightly more moderate, and most of it is oak groves or semi-open area, with fewer trails or rocky details. Map samples below.
Notes about the map:
Map according to the new mapping standard ISOM 2017.
Many areas have lots of thickets, and only the largest thickets are mapped.
In very dense areas of rocks they could not all be mapped separately, and you may see one boulder on the map but two in the terrain.
The oak forest is marked in light green and not white, even where it is fully open running, which might be misleading.
Note: if you are color blind, you might not see the difference between light green and light yellow.

There are a number of water points – both at controls and on trails.
There are many types of cyclists in the area, and you may encounter riders.
The arena is at the lowest point on the map, and the walk to start is 700 meters, with a climb of 60 meters. The first leg will be steep uphill and long, but the finish will be downhill and longer  into the arena.
Category
Scale
Distance
(km)
Climb
(m)
Controls
H21A, H35
1:10,000
8.3
330
25
H18A, H21B, H40, D21A
1:10,000
6.3
265
19
D16A, H16A, H18B, H21C
1:7,500
5.1
190
16
H45, H50A
1:7,500
5.0
210
16
D21B, D35, H35B, H55
1:7,500
5.1
190
15
H50B, H60, H65, H70
1:7,500
3.6
140
13
D21C, D40, D45, D50, D55, D60
1:7,500
3.6
135
13
D65+, H75+
1:7,500
2.2
95
9
D14, D16B, H14, H16B
1:7,500
3.4
130
11
D12, H12
1:7,500
2.1
80
10

…………………………………………………………
DAY 2 – HaSolelim
Course Planner – Mofaz Shmueli
Course Supervisor – Dror Zilberstein
Event Director – Naama Zilberstein, Jezreel Valley O-Club
The second day of the Israel Championship will take place in the forest around Kibbutz HaSolelim, an area first mapped in 2007 by Uzi Schweitzer and recently updated by Ziv Noiman.
The arena for Day 2 is at the center of the kibbutz, on the lawn next to the dining room. WC facilities in the adjacent building.
The start is about 500 meter from the arena, on pavement/sidewalk marked with yellow streamers. The start triangle is 100m from the start line.
There will be two water points.
The terrain is hilly with moderate slopes. Most of the competition area is covered with vegetation. Some areas have sparse and open-running groves of Tabor oak trees.  Other areas have various types of thickets with varying degrees of passability. Many boulders and rock piles are accurately mapped. The only trails are a bicycle path along the perimeter of the map and a dirt road that crosses the map.
Notes of caution:
If it rains a day or two before the competition, the ground may be quite muddy. Be careful on rock surfaces. The area is also covered with cow dung, much of it very fresh.
The final control is about 100 m within the kibbutz. Take care on the final leg when entering the kibbutz and crossing roads.
Maps for ALL categories are at scale 1:7500/5m.
Category
Distance 
(km)
Distance
(m)
Controls
H21A, H35
6.7
150
22
H18A, H21B, H40, D21A
5.5
130
16
D16A, H16A, H18B, H21C
4.9
120
14
H45, H50A
4.9
120
14
D21B, D35, H35B, H55
5.2
120
15
H50B, H60, H65, H70
3.9
80
13
D21C, D40, D45, D50, D55, D60
3.5
80
12
D65+, H75+
3.0
60
12
D14, D16B, H14, H16B
3.2
70
12
D12, H12
2.5
60
7

AWARD CEREMONY at 12:30
…………………………………………………………
If you wish to run a shorter course (B or C), send an email to IOA (office@nivut.org.il) after submitting the registration form.
Open Courses
Recreational (family) course – Day 2 only.
On-site registration available, dependent upon weather conditions.
Start Times
Competition Day 1:  9:00 to 11:00
Competition Day 2:  9:00 to approx. 11:30.
Start lists will be published prior to events.
Maps
Some maps will cover new terrain in familiar areas. Other maps will be recent and revised, to give competitors the best possible orienteering experience.
Scale 1:7500/1:10,000. Contours 5 meter.
Punching System
All events will be organized using the SPORTident electronic punching system. Competitors who have SI cards can bring and use their own cards.
Waiver
Every registered participant must sign a waiver. A parent or guardian must sign for each child under 18.
Health & Safety
IOA will provide first-aid at each competition site. Emergency care and major hospitals are within a 15-minute drive from all competition sites. IOA will not bear responsibility related to medical costs for participants.

Accommodations
Anywhere in central and northern Israel is a convenient location for getting to the events.
Inexpensive Accommodations in Israel
Israel Youth Hostel Association – Network of guesthouses and youth hostels throughout Israel.
Field Schools – Society for the Protection of Nature in Israel (SPNI). Hostel accommodations throughout Israel
Israel Hostels (ILH) – Independent Travelers' Accommodation
Abraham Hostels – Jerusalem, Tel Aviv, Nazareth locations
O-Training and Travel in Israel
The IOA invites you to a new orienteering experience.
Come to Israel for a week of O-training and sightseeing, and compete at the Israel Open Championships.
There are many training maps in close proximity to the competition arenas. Israel is a small country, and nearly all O-maps in Israel are within a driving distance of no more than two hours.
Israel offers a plethora of historical and religious sites, beach resorts, archaeological tourism, heritage tourism and ecotourism. The capital Jerusalem is one of the oldest cities in the world, and is a holy city to Judaism, Christianity and Islam. Tel Aviv is a cosmopolitan, cultural and financial global city. It was ranked by National Geographic in 2010 as one of the world's ten best beaches. Israel's different cultures and religions, its diverse landscapes, the contrasts between cities, and the mixture of European and Middle Eastern culture all combine to give tourist a rich experience.
Terrain