Friday-Saturday, 24-25 February 2017
Overall Results – 2-day total  (2017_Results_PDF)
Day 2 Splits – Lap Combat
DAY 1 Splits – Lap Combat
Location – Central Israel
24-Feb-2017  Tarom – Israel Open Day 1 – WRE Middle Distance!
25-Feb-2017  Ben Shemen Forest East – Israel Open Day 2
WRE Bulletin 2: 2017_Israel_Open_WRE_Bulletin_2
WRE Bulletin 1:  2017_Israel_Open_WRE_Bulletin_1
Venues – Getting There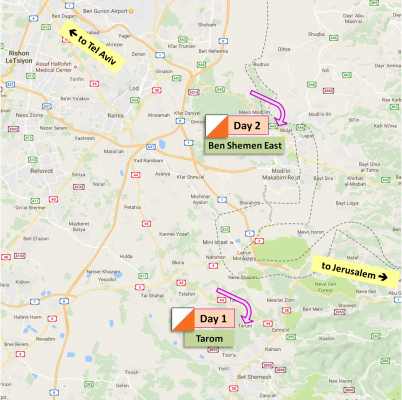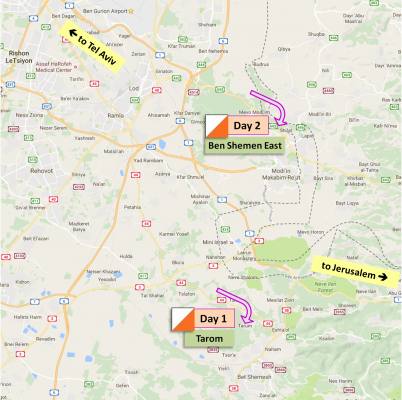 Registration
All competitors from abroad in all classes must register by submitting the Registration form.
Elite class competitors from both Israel and abroad (H21E, D21E) must also register for the WRE event through: EVENTOR.
For WRE and non-WRE, the entry fee per event is 50 NIS (12 Euro), and includes SPORTident card rental.
Once you have registered, payment can be made in the following ways:
Prior to events – Payment by credit card, by contacting the IOA office.
At venue – Payment in cash, in Israeli shekels (NIS), at cashier desk.
WRE registration deadline: 13 February 2017.
IOC registration deadline: 22 February 2017.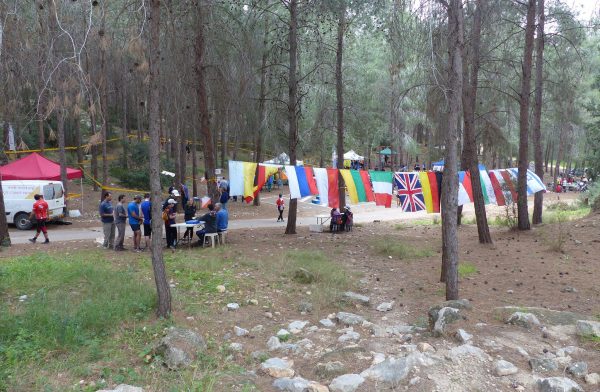 Competition Courses & Categories
Refer to the page Categories and Courses.
Advance registration is required for these courses.
Actual course lengths and number of controls will be published at a later date.
Open Courses & Classes
Advance registration is not required for open courses, but it is strongly encouraged.
On-site registration may be permitted, dependent upon weather conditions and/or available start slots. Check event website for updates.
– Medium Open
– Short Open
– Shorty Open
– Recreational (families, groups) – Day 2 only
Start Times
Competition Day 1:  9:00 to 11:00
Competition Day 2:  9:00 to approx. 11:30.
Start lists will be published prior to events.
Maps
Some maps will cover new terrain in familiar areas. Other maps will be recent and thorough revisions, to give competitors the best possible orienteering experience.
Scale 1:7500/1:10,000. Contours 5 meter.
Check out these existing maps from nearby areas to get an idea of the terrain:
Canada Park
Nachshonim
Neve Shalom
Tel Tzora
Ta'oz
Punching System
All events will be organized using the SPORTident electronic punching system. Competitors who have SI cards can bring and use their own cards.
Waiver
Every registered participant must sign a waiver. A parent or guardian must sign for each child under 18.
Health & Safety
IOA will provide first-aid at each competition site. Emergency care and major hospitals are within a 15-minute drive from all competition sites. IOA will not bear responsibility related to medical costs for participants.
Accommodations
Anywhere in central Israel is a convenient location for getting to the events.
Inexpensive Accommodations in Israel
Israel Youth Hostel Association – Network of guesthouses and youth hostels throughout Israel.
Field Schools – Society for the Protection of Nature in Israel (SPNI). Hostel accommodations throughout Israel
Israel Hostels (ILH) – Independent Travelers' Accommodation
Abraham Hostels – Jerusalem, Tel Aviv, Nazareth locations
O-Training and Travel in Israel
The IOA invites you to a new orienteering experience.
Come to Israel for a week of O-training and sightseeing, and compete at the Israel Open Championships.
There are many training maps in close proximity to the competition arenas. Israel is a small country, and nearly all O-maps in Israel are within a driving distance of no more than two hours.
Israel offers a plethora of historical and religious sites, beach resorts, archaeological tourism, heritage tourism and ecotourism. The capital Jerusalem is one of the oldest cities in the world, and is a holy city to Judaism, Christianity and Islam. Tel Aviv is a cosmopolitan, cultural and financial global city. It was ranked by National Geographic in 2010 as one of the world's ten best beaches. Israel's different cultures and religions, its diverse landscapes, the contrasts between cities, and the mixture of European and Middle Eastern culture all combine to give tourist a rich experience.
Terrain
Ben Shemen Forest
Ben Shemen Forest  is the largest forest in central Israel, located midway between Tel Aviv and Jerusalem. It offers a diversity of hiking routes, bicycle paths, picnic areas, archaeological sites, a profusion of wildflowers in winter and spring.
To the east of the Ben Shemen Forest is the new city of Modi'in-Maccabim-Reut, established in the 1990s and already home to some 90 thousand residents. The town's name commemorates the ancient settlement that thrived here some 2300 years ago. This region was home to the Maccabee family, whose members liberated Judea from Greek occupation and renewed the Jewish worship at the Temple in Jerusalem.