Friday-Saturday, 7-8 March 2014
Day 1 – Taoz – RESULTS  |  Splits
Day 2 – Tel Hadid –  RESULTS  |  Splits
Overall Standings: 2-Day Total RESULTS
PDF file: Israel_Open_2014_results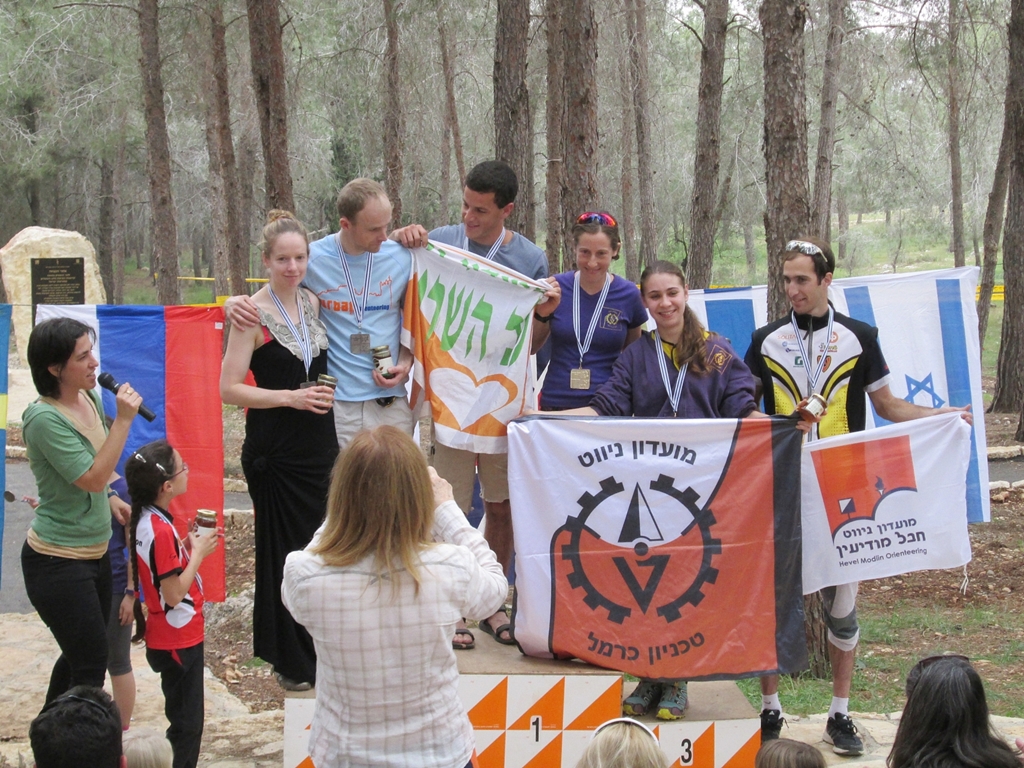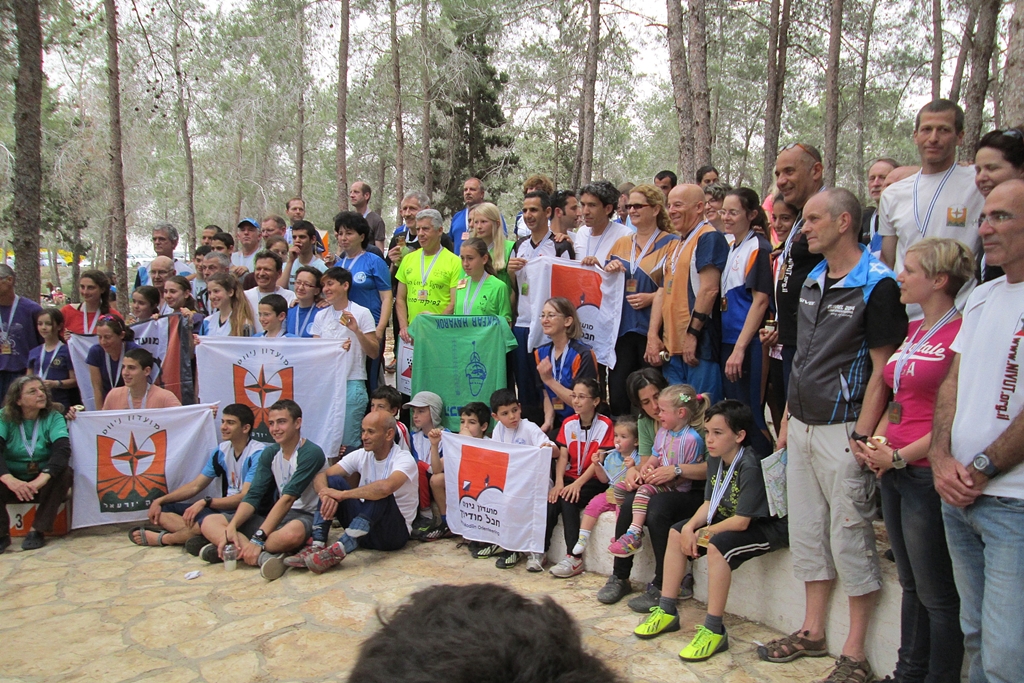 Links to Photos Albums:
* * * * * * * * * * * *
Start times have been posted. Start time is the column on the far left.
Correction:
Day 1 – Taoz – Start times – http://www.nivut.org.il/1140/Start
Start is 700 meters + 50 meter climb from assembly area. Be sure to give yourself enough time to get to the start line.
Day 2 – Tel Hadid – Start times – http://www.nivut.org.il/1141/Start
Start is close to assembly area.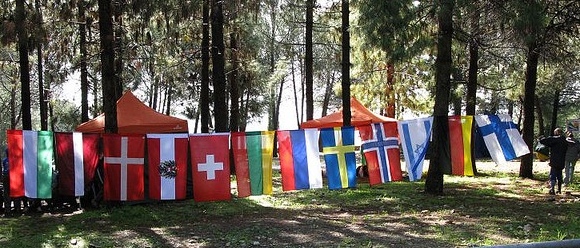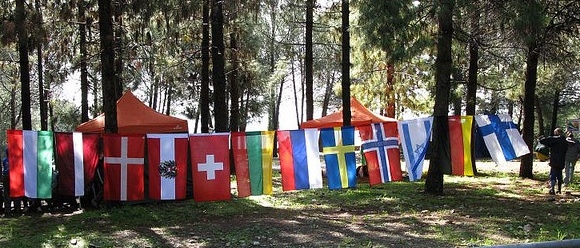 Confirmed entries from: Czech Republic, Germany, Canada, Russia, Finland, Sweden, Latvia, and Israel (of course).
Location
Competition Day 1  (Friday, 7 March) – TAOZ – Long Distance
Competition Day 2  (Saturday, 8 March) – TEL HADID – Middle Distance
Venues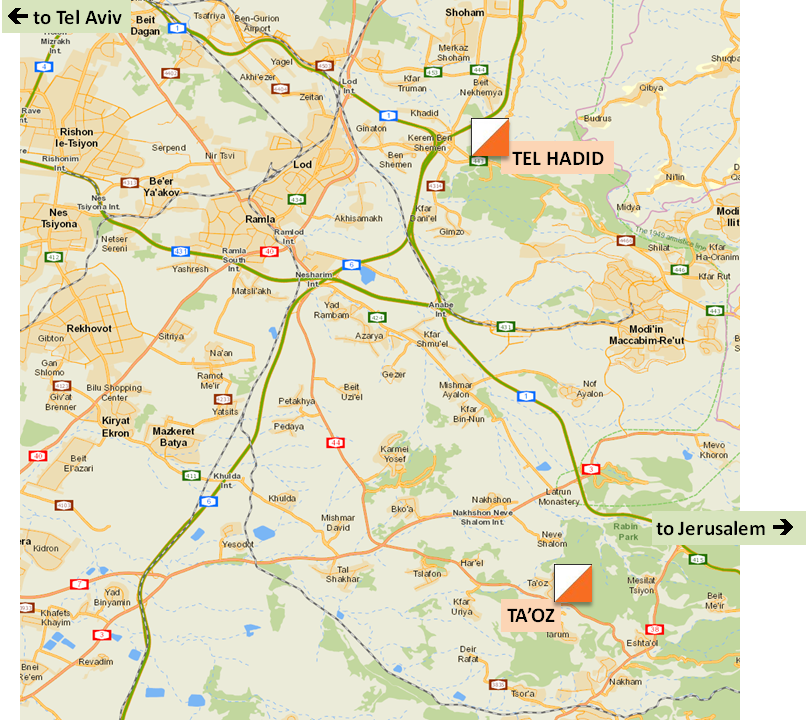 Getting There
Taoz: From Route 44, turn north onto road between villages of Taoz and Harel
Directional signs will be posted. (click map to enlarge).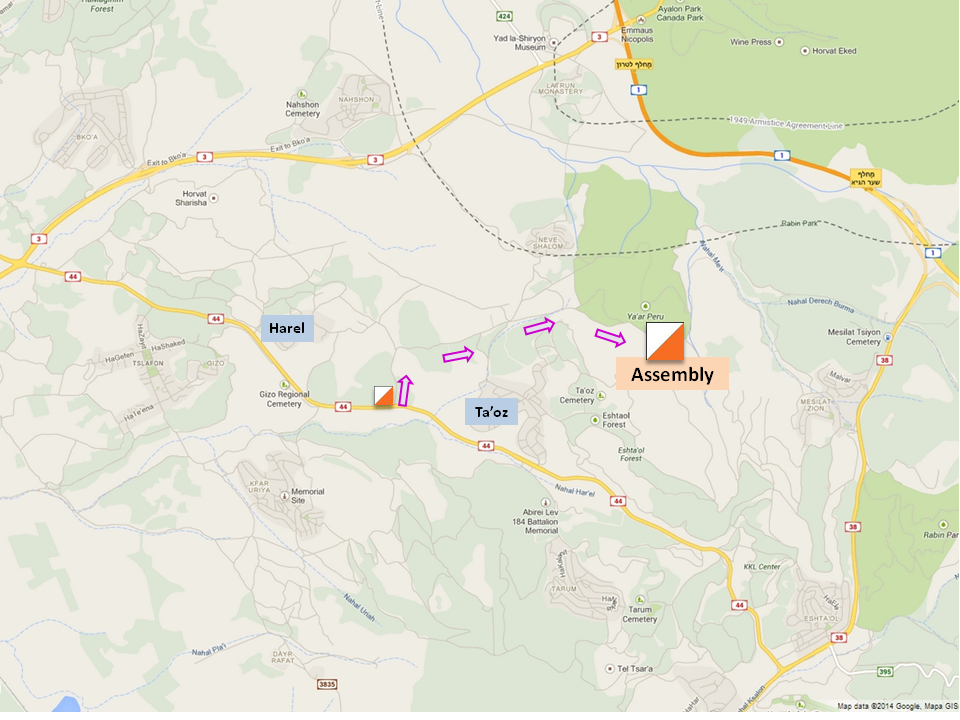 Tel Hadid: From Route 443, turn south  into main entrance of Ben Shemen Forest. Upon entering Ben Shemen Forest, immediate turn right and follow road under the bridge. Directional signs will be posted. Note that the forest entrance will likely be crowded with cars and cyclists. (click map to enlarge).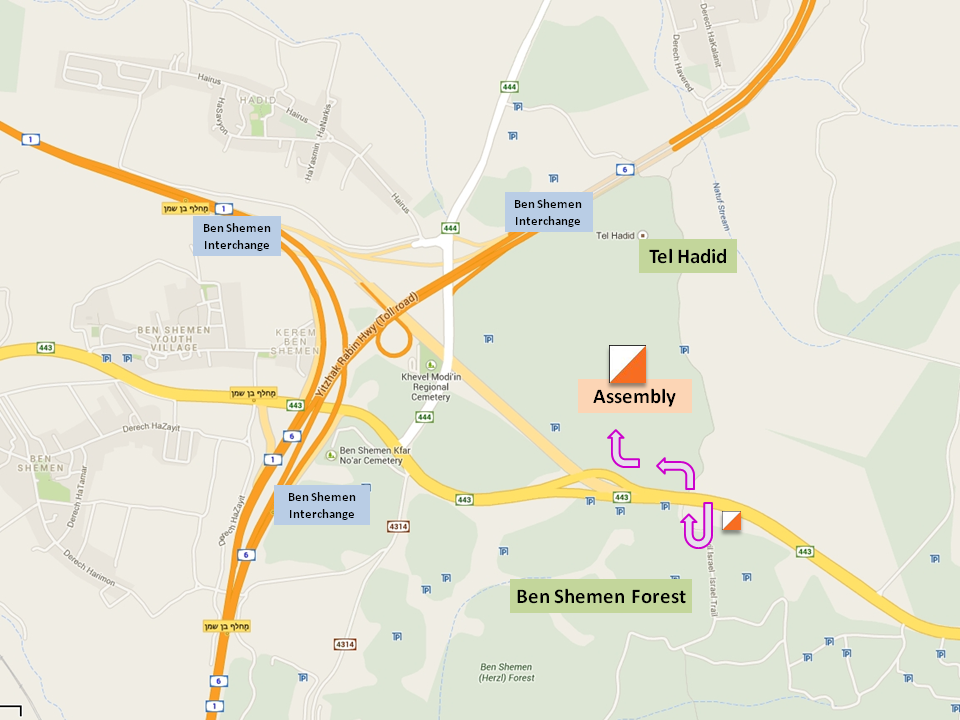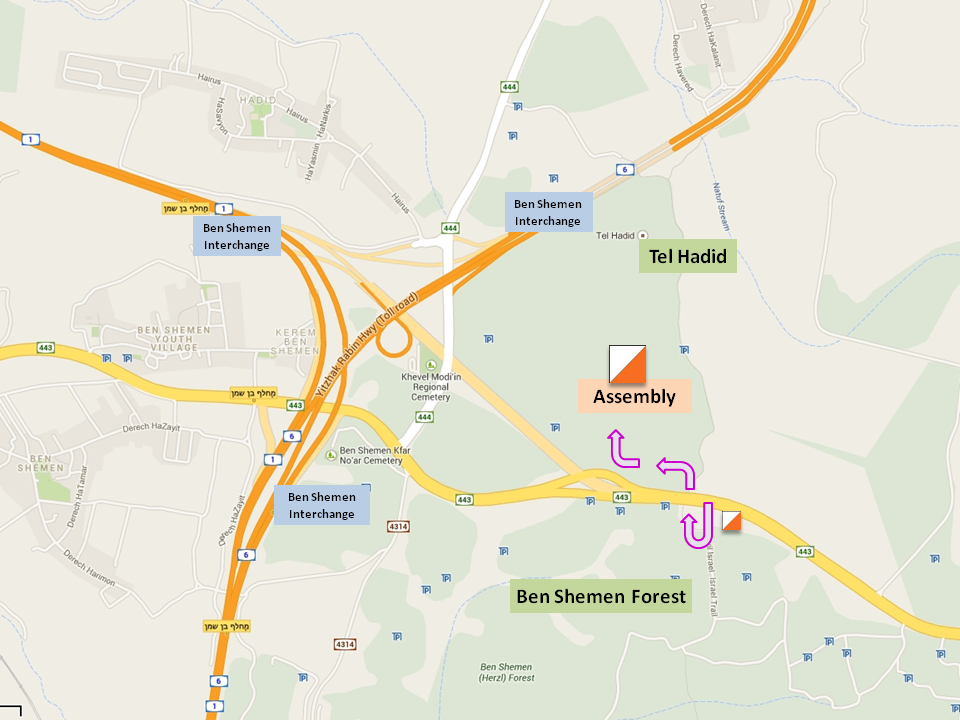 Competition Courses & Classes
Course Lengths and Number of Controls
Course
Classes
Day 1
Long
Day 2
Middle
Long
M21A, M35A
8.7 km
24 C
6.3 km 26  C
Medium +
W21A, M17, M21B, M40
6.8 km
19 C
5.3 km
23 C
Medium A
M45, M50A
5.8 km
16 C
4.3 km
19 C
Medium B
W21B, W35, M21C, M35B
5.8 km
16 C
4.3 km
19 C
Medium C
W15, H15, M50B
5.0 km
16 C
4.3 km
19 C
Short+ H
M55, M60, M65, M70
4.3 km
14 C
3.6 km
18 C
Short+ D
W21C, W40, W45, W50, W55, W60,
4.3 km
14 C
3.4 km
18 C
Short+ Gold
W65, W75, M75, M80
2.8 km
14 C
2 km
12 C
Short
W13, M13
3.6 km
13 C
3 km
13 C
Shorty
Boys/Girls 12 and under
2.2 km
7 C
2.4 km*
9 C
Recreational
not offered
3 km
11 C
*Actual distance
Start Times
Competition Day 1: (7 March) 9:00 to 11:00
Competition Day 2: (8 March) 9:00 to approx. 11:30.
Start lists will be published several days prior to event.
Maps
Taoz : Scale 1:10,000. Contours 5 meter.
Tel Hadid: 1:7,500. Contours 5 meter.
Existing maps have been thoroughly updated for the event, including Lidar-based contour-mapping.
Check out these maps from nearby areas to get an idea of the terrain:
Ben Shemen
Burma Road
Canada Park
Nachshonim
Neve Shalom
Tel Tzora
Registration
50 NIS per event, includes SPORTident card rental
To guarantee your start time and use of an electronic punch, you must register no later than 1 week prior to the event. Early registration ends 28.2.2014
Online registration is not available in English.
To register, contact Ziv Noiman at: ISOA Info/Registration
For each participant, please provide the following information:
First name, last name
Male/female
Year of birth
Country
Club
Your SPORTident number OR request to rent
Email address or other contact information
Waiver
Every registered participant must sign a waiver. A parent or guardian must sign for each child under 18.
Health & Safety
ISOA will provide first-aid at each competition site. Emergency care and major hospitals are within a 15-minute drive from all competition sites. ISOA will not bear responsibility related to medical costs for participants.
Accomodations
Places to stay near the championship venues:
B&B Kibbutz Tzora – Tel: 972-2-990-8562, 972-50-727-2059
Neve Shalom Hotel – Tel: 972-2-999-3030
Moshav Shoresh Country Lodging
Yad Hashmona Kibbutz Hotel
Neve Ilan Hotel – Tel: 972-3-9190669
Inexpensive Accommodations in Israel
Overnight Campgrounds – Israel Nature and Parks AuthorityNote: most overnight campgrounds are available for large groups only, by reservation.
Israel Youth Hostel Association – Network of guesthouses and youth hostels throughout Israel.
Field Schools – Society for the Protection of Nature in Israel (SPNI).
Hostel accommodations throughout Israel
Israel Hostels (ILH) – Independent Travelers' Accommodation
O-Training and Travel in Israel
The ISOA invites you to a new orienteering experience.
Come to Israel for a week of O-training and sightseeing, and compete at the Israel Open Championships.
Terrain
About Taoz
The Taoz map lies within  the Yitzkak Rabin Park. The park occupies an area of around 15,000 dunam in the Shaar HaGai area. The park consists mainly of planted forests, and gives visitors an opportunity to see a variety of different geographical segments and historical sites that represent the history of the Land of Israel. The park includes areas of woodland where a variety of wildflowers bloom in the winter and spring, terraces bearing traces of ancient agriculture, and sites of historical and archeological interest that provide evidence of continuous Jewish settlement in the area since Biblical times. The remains of a Roman road, Byzantine and Ottoman ruins, and the remnants of comparatively recent settlement – blend to form the varied and interesting landscape of the park.
About Tel Hadid
Tel in Hebrew means "mound" or "hill". It is a type of archeological site formed by the accumulation and erosion of materials deposited by inhabitants of settlements that were built, occupied, destroyed, and rebuilt repeatedly over time. Shards found at Tel Hadid have been dated to the Iron Age. Scientists estimate that Hadid was a town surrounded by a wall until the time of Joshua, some 3000 years ago. It was situated on a vantage point overlooking both the coastal plain and the ancient road from Jaffa to Jerusalem.
This ancient site in the heart of Ben Shemen Forest is surrounded by a grove of ancient olive trees interspersed with wild prickly pears (sabras). The grove covers an area of one thousand dunams and among its paths are ancient winepresses and olive presses. Tel Hadid is home to groves of jujubes, carobs, almonds, figs and pomegranates, and a grove of seven ancient jujube trees, the largest in Israel.
Tel Hadid offers a panoramic view of  the Lod valley where Ben-Gurion International Airport is located, the Judean plain, the Tel Aviv metropolis, and the coastline. The nearby city of Lod dates back to ancient times. From the second to fourth century AD, Lod was home to outstanding Jewish scholars and an academy for Jewish learning. For Christians, Lod is the birthplace of St. George the dragon slayer, Patron Saint of England.
Images of Yitzhak Rabin Park (Taoz) and Tel Hadid