Friday-Saturday, 18-19 February 2011
Results of the 2011 Negev Desert Championship have been posted on the ISOA website: Negev Championship Results
Results are in an Excel file. The file has 4 tabs: Total shows the championship winners, based on the combined results from Park Golda and Nitzana. Separate meet results are presented in the Nitzana, Shivta and Golda tabs.
Orienteering at Shivta National Park, amidst the ruins and reconstruction of an ancient Nabatean city.
[youtube=http://www.youtube.com/watch?v=5g9SIy1odrI]
The annual Negev Desert Championship is a memorial event honoring Hagar Palmach, a teenager who died in a hiking accident while a student at the Sde Boker high school in 2001. In addition to orienteering, participants will enjoy visits to geological and historical sites, swimming, biking and other sporting activities, and lots of social and fun events.
The ISOA invites you to the February O Festival – two consecutive weekends of exciting orienteering. Warm up at the Negev Desert Championship and then run hard at the Israel Championship. We promise you an awesome experience!
See details in the lastest bulletin (PDF): February O Festival 2011 – Bulletin 2
See also: February O Festival 2011 – Bulletin 1
Location
Day 1 – Park Golda
Day 2 – Shivta National Park and Nitzana educational village (2 sprints)
Competition Courses & Categories
Short course:
Boys/Girls 14 and under
Women 40-49
Women 50-59
Men/Women 60 and older
Medium course:
Boys/Girls 15-19
Women 20-39
Men 40-49
Men 50-59
IDF soldiers women
Long course:
Men 20-39
IDF soldiers men
Recreational (non-competitive) courses for family fun each day
Mountain bike orienteering – open to all ages – at Park Golda (Day 1), and Nitzana only (Day 2).
Awards
Ceremonies will be held each day at the conclusion of competition.
On Friday medals will be awarded to the top three finishers in the youth and soldier categories, and to the winner only in the adult categories.
On Saturday medals will be awarded to top finishers based on the combined scores of the two sprints. In addition, trophies will be awarded to the Desert Championship winners, based on the combined scores of  the three events.
Start Times
Day 1 – 9:00-11:00
Day 2 – 8:00-9:00 at Shivta. 10:30-12:00 at Nitzana
Buses will shuttle competitors between Nitzana and Shivta
Fees & Registration
50 NIS – per event (Saturday's sprints are considered 1 event)
30 NIS – reduced fee for members of ISOA and residents of Ramat Hanegev
Free – IDF soldiers
Free – First 10 maps for groups of students. Each additional map is 10 NIS.
Early registration is not required. However, please let the organizers know in advance if you are a visitor from outside Israel or if you are coming with a group of 10 people or more.
Contact Info
To register, send email to: ISOA Info/Registration
More info at: www.nitzana.org.il and gonegev.co.il
Maps & Courses
Park Golda
Map: scale 1:10000, contours 5m. Mapped by Ziv Noiman and Nimrod Cohen. 2007.
Terrain: Desert terrain with small stones. The area has three distinct sections:
1. The southern section is on the south side of a road with light traffic.
Warning: Crossing this road is permitted only where marked by the event organizers. The area has many bushes and moderate runnability.
2. The central section is located on the north side of the road.  The terrain is flat, with many bushes similar to the southern section. There is renovation work in the lake in the middle of this section, but it will not affect any of the courses that cross this area.
3. The northern section is completely open and hilly with many pits and small depressions. The ground is rocky. Spiked shoes are not recommended. There are many cliffs and rock faces between the north and central sections. Be careful.
Courses:
Long: 6330m, 28 controls, 275m climb
Medium: 5320m, 19 controls, 195m climb
Short: 3530m, 14 controls, 165m climbing
Recreational: 2570m, 8 controls
Park Golda Parking/Assembly Area (click to enlarge)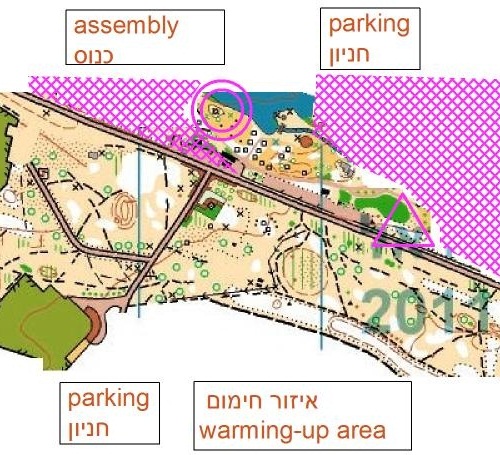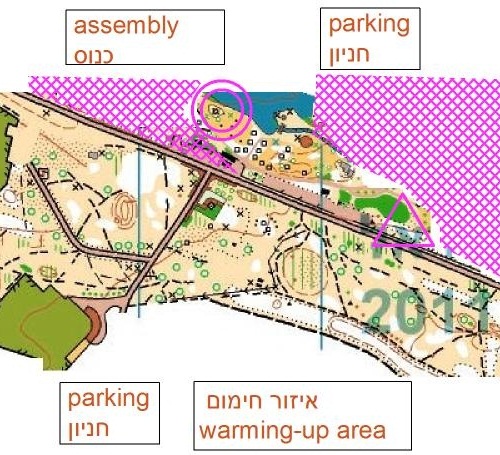 Nitzana
Map: scale 1:10000, contours 5m. Mapped by B.Wollenberg. 2001. Subsequently updated by S.Yakimov and O.Verbin.
Terrain: The map has three sections:
1. The Nitzana educational campus has many small buildings. The start and finish are here. The course begins with a micro-O and ends with a sprint near the swimming pool.
2. The area south of the village is known as Tel Nitzana, and belongs to the Israel Nature and Parks Authority. This is open desert land, which has few features. Unlike in past years, this year none of the courses will go into Tel Nitzana.
3. The main area of the map is southwest of the village. It has open land with rocky ground, and some cultivated plots. The terrain is hilly and good orienteering relies on the topography. However, there are many pits and trenches that make precise orienteering just as important.
It is recommended to run in shoes without spikes.
Courses:
Long: 5320m, 15 controls
Medium: 4320m, 12 controls
Short: 3940m, 10 controls
Recreational: 3550m, 8 controls
Nitzana Parking/Assembly Area (click to enlarge)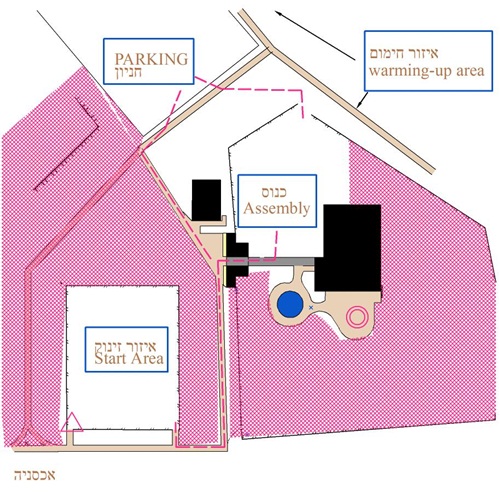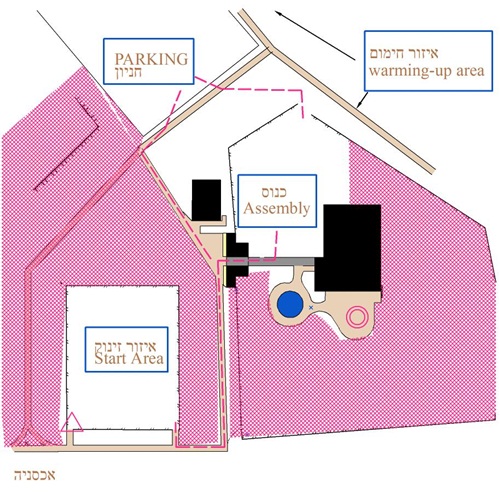 Getting There
Day 1 – Park Golda – Driving south on Route 40: turn right at Mashabim junction to Route 222. Continue about 1.5 km. Park Golda on right. Follow signs.
Day 2 – Nitzana – Driving south on Route 40: Continue straight to Route 211 at Tlalim junction. Continue 37 km to Nitzana junction and turn left. Follow signs.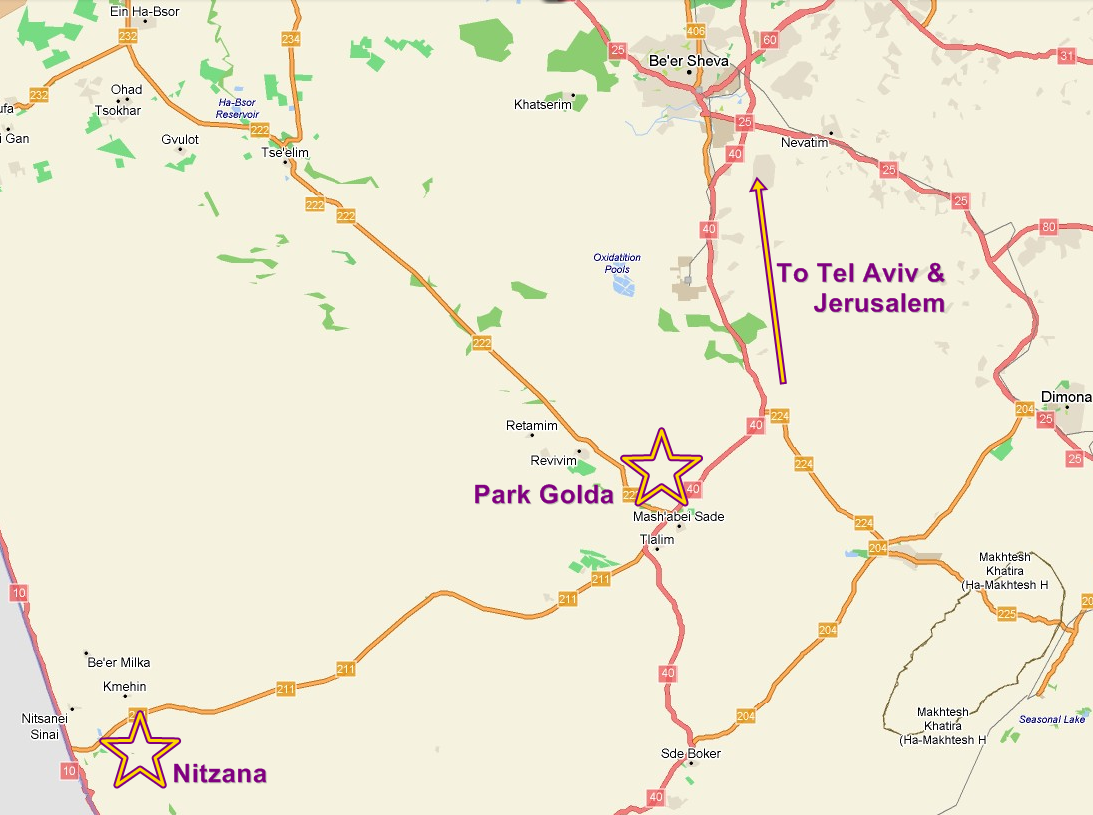 Scenes from previous Desert Championships