6-9 April 2023
A big thank you to the international participants in the Israel Orienteering Spring Tour. We enjoyed meeting you and competing with you. We hope you enjoyed your Israeli orienteering experience.
Feedback?  Please let us know what you especially liked, what needed improvement, and what you think we should do next time. Send us a message (in any language): israelorienteering@gmail.com
Results
Final results and standings of competitors registered for all 3 stages:
IOST2023_3day-results-FINAL-overall
Photos
IOST2023_Kibbutz-Gan-Shmuel_Control-100 and Awards Ceremony
IOST2023_Kibbutz-Gan-Shmuel_Start-Line
Kibbutz Gan Shmuel (April 9) – Day 3 competition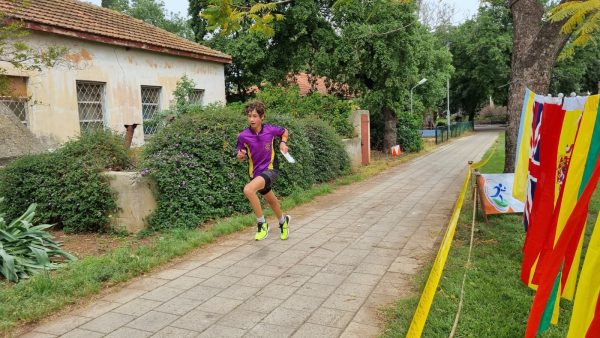 Results for all competitors:
Spring-Tour-3-GanShmuel-results
Spring-Tour-3-GanShmuel-splits
Ben Shemen Forest (April 8) – Day 2 competition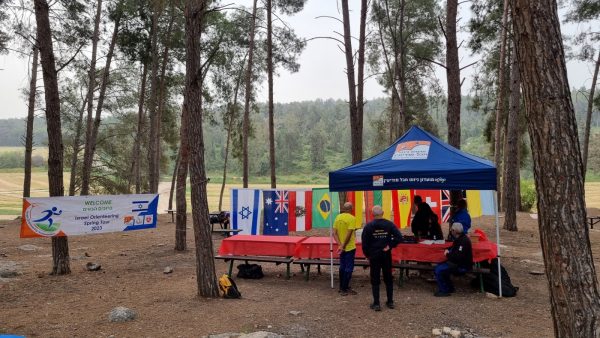 Results for all competitors:
Spring-Tour-2-BenShemen-results
Spring-Tour-2-BenShemen-splits
Neot Kedumim (April 7) – Day 1 competition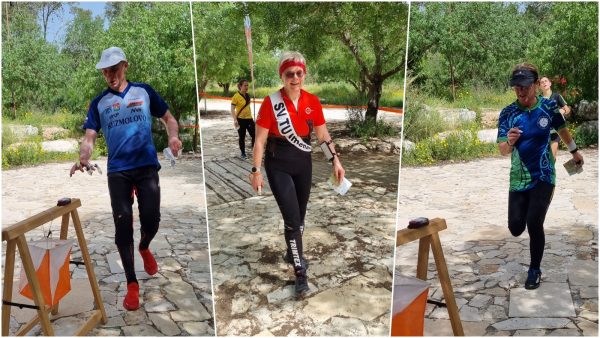 Results for all competitors:
Spring-Tour-1-Neot-Kedumim-results
Jerusalem (April 6)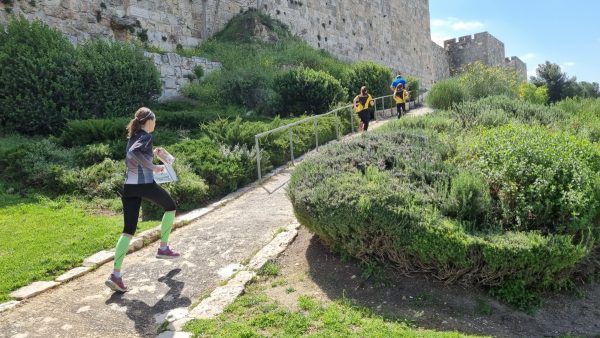 PDF: 2023-04-06_Jerusalem-results
Events
April 6 Thursday – Jerusalem – City race format with timing (electronic punch at start/finish and some controls) – Starts window 10:00 -12:00. Courses close 13:30.
April 7 Friday – Stage 1. Neot Kedumim biblical nature reserve – Middle distance format
Starts window 9:00-10:30. Courses close 12:00.
April 8 Saturday – Stage 2. Ben Shemen forest – Shortened long distance format
Starts window

8:30-10:3

0. Courses close 12:00.

April 9 Sunday – Stage 3. Kibbutz Gan Shmuel – Sprint format
Starts window 9:00-10:30. Courses close 11:30.  
Starts will be spaced at 1-minute intervals. There will be no assigned start times. You can start at your convenience. 
Winners will be determined by the combined results of Stages 1, 2 and 3.
An award ceremony will be held at the end of the last competition, on Sunday at 12:00.
Classes and Courses
There will be four different courses on each of the stages. Competitors will run on courses according to age classes, as follows.
Short Easy Course
W12, W14
M12, M14
Short Course
W16, W45, W55, W65, W75
M16, M65, M75
Medium Course
W18, W21, W35
M18, M45, M55
Long Course
M21, M35
Age is according to the competitor's age on December 31, 2023.
The organizers may decide to combine classes if an insufficient number of competitors are registered in a class.
Driving Directions to Venues
Jerusalem
WAZE: https://ul.waze.com/ul?ll=31.77061272%2C35.22438884
GOOGLE MAPS:  https://goo.gl/maps/LxTdyNx7TocedfbP9
Neot Kedumim
WAZE: https://ul.waze.com/ul?ll=31.94651139%2C34.97122264
GOOGLE MAPS:  https://goo.gl/maps/o9ZvT6LsEXte4rt8A
Ben Shemen Forest
WAZE: https://ul.waze.com/ul?ll=31.94847398%2C34.94084716
GOOGLE MAPS: https://goo.gl/maps/poz9u3etSRFaVvZp8
Kibbut Gan Shmuel
WAZE: https://ul.waze.com/ul?ll=32.45110751%2C34.95100736
GOOGLE MAPS: https://goo.gl/maps/3obUQWexqmqUxPAy6
Venues – Map Samples
Explore on Your Own
Thursday. O-training in Jerusalem Old City and/or wander around the city.  Jerusalem Tourist Information
Friday. Neot Kedumim Biblical Nature Reserve.  Walk the trails and discover the botany, zoology, geography, history, and archaeology of both Jewish and Christian heritage.
Saturday. Visit Tel Aviv-Jaffa. Or just relax on the beach.
Sunday. O-training on Caesarea sand dunes and/or visit to the Caesarea National Park just a short drive from Kibbutz Gan Shmuel.
Entries 
Timing system: SPORTident.
Registration is now open on OrienteeringOnline.net 
(Note that Israeli competitors are registered for the IOST2023 competitions in Israel Orienteering's Hebrew registration system.)
60€ for 4 events (MW21 and older) and 50€ (MW18 and younger).
18€ / 15€ for single event.
3€ per day for SPORTident card rental. (Loss of rented SI card will be charged at €40 each.) 
Payment by credit card.
For instructions, contact Enrico at the Israel Orienteering Association office: enrico@nivut.org.il
Organizer Contact Info
Israel Orienteering Association
office@nivut.org.il
Hakfar Hayarok | Ramat Hasharon 4780000 | Israel
Mobile: +972-54-6597974
Phone: +972-74-7407773
The Israel Orienteering office is located in Ramat Hasharon, just north of Tel Aviv. The office will be open on Sunday April 2 and Monday April 3 from 8:00 to 11:00.  (tentatively also on Tuesday April 4)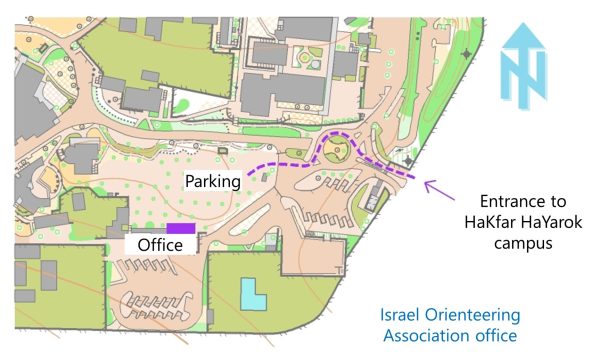 Driving directions to the Israel Orienteering office:
WAZE: https://ul.waze.com/ul?ll=32.13316175%2C34.83072209
GOOGLE MAPS: https://goo.gl/maps/9oBbEfmv22JZYC5d7
Maps for Training (without controls)
You can come to the Israel Orienteering office (see hours above) to obtain maps for training on your own. Alternately, we can deliver maps at the event if you let us know in advance what maps you are interested in.
More Info
Israel has long, warm, dry summers (April-October) and mostly mild winters (November-March). You can expect to enjoy sunshine and comfortable daytime temperatures during the spring O-tour.
The Event Organizer will not bear responsibility related to medical costs for participants. Participants are responsible for their own insurance.
Lunch – Sunday April 9 at Kibbutz Gan Shmuel
The kibbutz dining hall will be open to visitors on Sunday. It operates like a cafeteria and meals can be purchased for a reasonable price. Details coming soon.
Accommodations
Abraham Hostels – located in Jerusalem, Tel Aviv and Nazareth.
Participants in the IOST2023 can receive a 10% discount at any one of the Abraham Hostels on the nights of April 6, 7, 8, 9, 10 and 11. When making your reservation, use the promo code ORIENT10.
Passover Holidays and Sabbath in Israel
Observance of Jewish holidays and the sabbath (Saturday) begins on the preceding evening, with stores and businesses closing by mid-afternoon and remaining closed unti the holiday/Sabbath ends. Trains and buses do not run on holidays and sabbath.
It is recommended that you rent a car for easiest transportation and access to orienteering venues.
We also recommend the Tel Aviv area for accommodations.
The intermediate days of Pesach (April 7 through 11) are semi-holidays; schools are closed and many people are on vacation from work.
Wednesday, April 5 – Evening of Passover holiday.
Thursday, April 6 – Passover. General holiday in Israel.
Friday, April 7 – Sabbath eve, an intermediate day of Passover, a semi-holiday.
Saturday, April 8 – Sabbath
Sunday, April 9 – an intermediate day of Passover
Monday, April 10 – an intermediate day of Passover
Tuesday, April 11 – Evening of final day of Passover holiday
Wednesday, April 12 – Final day of Passover. General holiday in Israel.
As noted, the O-tour is taking place during the week of Passover. The food laws of Passover mean that grain products such as breads, pasta and pastries, as well as beer, will not be available in many stores and restaurants. Groceries and eating options will be limited in Jerusalem. Shops and restaurants will be open and restrictions more relaxed in Tel Aviv and in non-Jewish neighborhoods and towns.
Neot Kedumim
Ben Shemen Forest terrain
Kibbutz Gan Shmuel
Caesarea sand dune terrain
Jerusalem
..